Each year, Alpha Delta Pi alumnae, collegians, friends, and family members lace up their running shoes and conquer the Bank of America Chicago Marathon – all to support Ronald McDonald House Charities! After a virtual marathon in 2020, Team ADPi is back in person this year and has spent the past few months fundraising for RMHC and training to run 26.2 miles this Sunday, October 10. Two Alpha Delta Pi sisters who will be in attendance this year are Ashley Haugen Baker (Epsilon Mu, 2012) and Amber Haugen Schwiesow (Omega Alpha, 2021).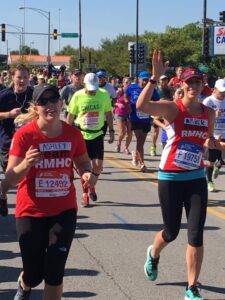 When Ashley was a collegiate member at the University of Northern Iowa, she and her chapter sisters would visit the RMHC of Iowa City, preparing meals, cleaning rooms, and serving the families in any way possible. During her senior year of college, Ashley decided she wanted to run a marathon and was pleased to discover that there was a Team ADPi in support of RMHC for the Chicago Marathon. In 2013, Ashley ran the Chicago Marathon for the first time with Team ADPi while Amber, her biological sister, cheered her on from the sidewalk. Ashley and Amber then ran the Chicago Marathon together in 2014 with Team ADPi. They would go on to run it together five times, always with Team ADPi in support of RMHC.
While both Ashley and Amber describe the training as the most challenging part, it is the experience of running with Ronald McDonald House Charities and Alpha Delta Pi that makes everything worth it. For Ashley, she loves connecting with Team ADPi each year, seeing certain sisters only during Chicago Marathon weekend each year. When the marathon gets hard, Amber shares that running past the RMHC house in Chicago where families who are able stand outside and cheer on the runners as they pass always motivates her to finish.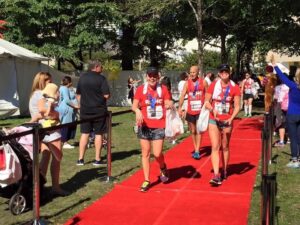 When they aren't gearing up for the Chicago Marathon, Ashley and Amber continue their service to RMHC throughout the year. Ashley has been an advisor for Alpha Epsilon chapter at University of Nebraska, Lincoln since 2017. In her role, she always shares with the chapter members the importance of philanthropy and our partnership with RMHC. She loves the partnership between RHMC and Alpha Delta Pi because the impact of RMHC on families is so significant. "Their kids are going through so much at the hospitals. And to know that they have a place to rest their head at the end of the night and not have to worry if a meal is cooked or the cost of staying allows the families to focus on taking care of their child instead."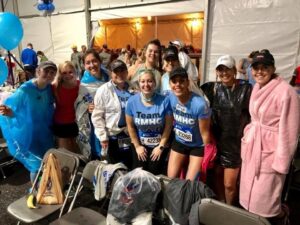 Amber has served on Ronald McDonald House Charities of South Dakota's Board of Directors for six years and is currently their Governance and Strategic Planning Chair. For her, she values Alpha Delta Pi's relationship with RMHC because of the lifelong bond sisters make with RMHC. Amber says, "The struggle the houses have in finding good volunteers is really challenging. The partnership with Alpha Delta Pi gives a link to lifelong volunteers, which is so important to RMHC houses everywhere."
Amber is one of seven runners this year for Team ADPi and is looking forward to her first race as an initiated member of Alpha Delta Pi. While Ashley is not running the marathon this year, she is serving as the Alpha Delta Pi's contact for the team and will be cheering on Amber, her husband Jared Baker, and the rest of Team ADPi.
Currently, Team ADPi has raised more than $4,000 for Ronald McDonald House Charities, and Team RMHC is closing in on their $750,000 goal. There's still time to support Team ADPi in their fundraising efforts for RMHC here!
---
---