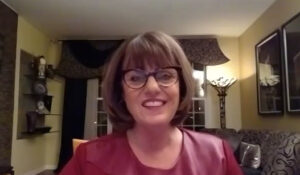 We asked Ronald McDonald House Charities President & CEO Sheila Musolino, Omega Alpha—Alumna Initiate, what her favorite meal was to make for the families staying at Ronald McDonald House Charities. Her response? "I'm Italian, so my easy go-to meal is Baked Mostaccioli, Meatballs, and Salad."
Sheila generously agreed to share some of the "secret Musolino recipes written up by my auntie." As Sheila explained during our interview, "the secret is really in the sauce… we call our red sauce gravy." Below are her family recipes for Meatballs and Gravy/Red Sauce.
Buon appetito!
Meatballs
1 lb. ground sirloin

1 lb. ground pork

½ c. fresh grated Romano cheese

½ c. chopped parsley

Salt to taste

Pepper to taste

4 or 5 cloves finely chopped garlic

½ c. breadcrumbs

2 eggs

Wet bread (pulled into tiny bits), about 3 or 4 slices

¼ c. very finely chopped onions

½ to 1 c. fresh ricotta (note: the original recipe called for ¼ c. water or milk but was updated in 2012 to include ricotta)
Instructions:
Do not overmix the mixture. It is best to mix in a low flat 9 x 12 pan. When you overmix, it pulverizes the meat and makes mush.
Form balls and put on a cooking sheet sprayed with [cooking spray]. Bake for about as long as it takes to brown them on 425 degrees or form into balls and brown in frying pan.
Note from "La Signora" (auntie): Ma and I have always made meatballs oval shaped. Why? Because at the restaurant they fit better into a sandwich.
Gravy (Sauce for Pasta)
1 medium onion (diced)

4 cloves garlic (minced fine)

¼ c. chopped parsley

¼ c. chopped basil

1 tsp. fennel seeds (crushed)

½ tsp. oregano

½ tsp. marjoram

1 tsp. fresh ground black pepper

1 c. red wine

1 large can tomato sauce

1 large can plum tomatoes or diced tomatoes

1 large can tomato puree

1 small can tomato paste

2 c. chicken broth
Instructions:
Sauté onion and garlic in olive oil; when translucent, add wine, let simmer for about 10 minutes. Add all tomatoes and fresh spices. Cover and simmer for about ½ hour. Add 2 cups of chicken broth and dried spices. Let simmer for about 1 hour or longer. When serving meat with the gravy, brown meatballs, sausage, neckbones, etc. Add to pot with tomatoes.
Note from "La Signora" (auntie): After you have made gravy for as long as I have, you will learn to smell and see the change of color to determine when it is done cooking.
---
---