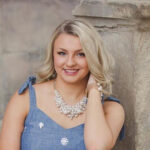 Lauren Samsa joined the Gamma Theta Chapter of Alpha Delta Pi at the University of Mount Union in the fall of 2018. Initially, she joined because of the instant, genuine connection she had with her chapter sisters, feeling right at home at Alpha Delta Pi throughout recruitment. Two years later, Lauren would learn just how strong the bonds are between Alpha Delta Pi sisters everywhere.
In the spring of 2020 during Lauren's sophomore year, her father unexpectedly passed away, and with his passing came a lot of uncertainty for Lauren's future. Lauren and her family experienced unforeseen costs, such as emergency medical expenses, funeral and burial expenses, and the sudden loss of wages – diminishing funds that normally would have been used for her tuition expenses. Between these financial burdens and coping with the sudden loss of her father, Lauren was not sure if she could afford to attend school in the fall, whether she wanted to or not.
When serving as Gamma Theta's Chapter Foundation Ambassador in 2019, Lauren learned about the Alpha Delta Pi Foundation's Abigail Davis Emergency Grant – a grant available for undergraduate members of Alpha Delta Pi facing unforeseen financial circumstances who would otherwise be forced to withdraw from school. Lauren's Collegiate Province Director, Teresa Good, encouraged her to apply for this grant and helped her through the application process. Soon after, Lauren received an Abigail Davis Emergency Grant to help pay for her tuition expenses, school fees, and books for the fall 2020 semester. By receiving an Abigail Davis Emergency Grant, Lauren was able to go back to the University of Mount Union with less stress about how she would pay for school and focus on her educational goals.
When asked about how receiving an Abigail Davis Emergency Grant has impacted her future and Alpha Delta Pi experience, Lauren shared the following: "Receiving this grant has shown me that Alpha Delta Pi will be there for me no matter what the circumstances are. When we talk about sisterhood and how we support one another, we tend to think about it in terms of our own chapter, but it is much bigger than that. I will probably never meet or be able to thank the Alpha Delta Pi sisters who granted me this opportunity, but I am grateful that they chose to support me during this time without even knowing me."
Lauren just started her senior year at the University of Mount Union and currently serves as Gamma Theta's Chapter President. She will graduate in May 2022 with a degree in Accounting. Afterwards, she plans to move back to her hometown of Dover, Ohio to work as an Accountant for Novogradac & Company LLP and study for the Certified Public Accounting Exam. Lauren says she still feels the impact of receiving an Abigail Davis Emergency Grant with the security of knowing the Alpha Delta Pi Foundation and her sisters near and far will always be there for her.
Abigail Davis Emergency Grant Applications are accepted on a rolling-basis throughout the year with no deadline to apply. For more information, please visit https://alphadeltapi.org/foundation/emergencygrants or contact foundation@alphadeltapi.com.  
---
---