By Claire Mellick – Alumnae Relations Director-Central District, Region A; Theta Alpha, Northwest Missouri State University
October brings many things – football games, Halloween festivities, and now, one of my favorite weeks of the year – Alpha Delta Pi's annual Week of Service! It's so incredible to see our sisterhood come together throughout this one week to make a difference within our communities.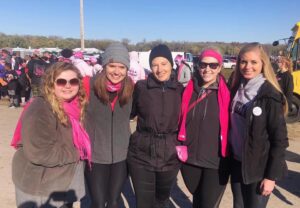 Alpha Delta Pi's Week of Service began in 2019 as a way to celebrate the organization's 40th Anniversary Partnership with Ronald McDonald House Charities. The Alumnae Relations Director team that I serve on launched this effort to invite all Alpha Delta Pi sisters to give back during the week in the spirit of service.
The commitment to service is just one of the many reasons why I love Alpha Delta Pi,  so I was very excited when our first Week of Service was announced! I had such a great time gathering with sisters from my local alumnae association to give back. We made crafts and treat bags for the Central Iowa Ronald McDonald House, and we also participated in a local fundraiser walk for Susan G. Komen. After ADPi's inaugural Week of Service, I knew that it was something I wanted to become further involved with. For the past two years, I have had the opportunity to plan and coordinate Week of Service alongside a team of volunteers and ADPi staff partners. It has been so amazing to witness the growth of the program and the impact that our sisterhood has made in just the first two years!
In our inaugural year, there were 65 registered service events and activities held. The following year, 2020, brought about several unique challenges as the Covid-19 pandemic continued to impact our communities. Due to pandemic restrictions, several Ronald McDonald Houses and other local charities were not allowing any in-person volunteering. Many of the service events and activities that sisters would traditionally host for Week of Service were now unsafe, so events were adjusted to be held virtually instead. Sisters that were able to gather for in-person events needed to ensure they were abiding by all local guidelines, as well as taking all necessary safety precautions. It was inspiring to see the resiliency and creativity of our sisterhood, who still hosted 98 service events and contributed hundreds of volunteer hours – amidst a global pandemic!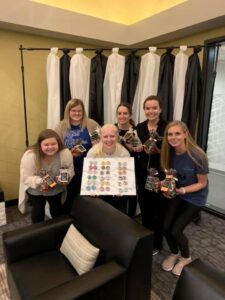 This year, our third annual Week of Service will be held October 23 – October 30, and we will be celebrating 42 years in partnership with RMHC. We invite all members of Alpha Delta Pi, along with your family and friends, to choose one day throughout this week to give back, whether that is in support of RMHC or another organization. If you are not already registered to participate in Week of Service, I highly encourage you to do so! Alumnae Associations, Collegiate Chapters, and individual sisters have planned a variety of both in-person and virtual events this year. You can join in one of these events, or feel free to create and register your own! Any service activity counts, and collectively, it all makes a real difference. I cannot wait to see the impact that our sisterhood will make again this year!  
---
---