We're just one month from Grand Convention 2022! If you're as excited as we are to be in Orlando, check out these fast facts, reminders, and links to be as ready as ever. For more information, visit the Grand Convention page on Pride Online.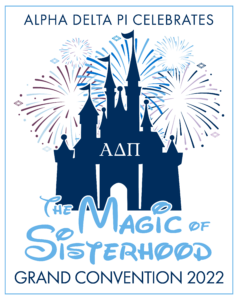 Getting the Most Out
Meet other sisters– Talk to women you don't know. One of the best things about Grand Convention is the chance to meet sisters from across the United States and Canada. Exchange contact information. You never know when you might need to contact a sister to ask for ideas and resources!
Introduce yourself– Current and past Grand Council members, International Officers, Executive Office staff, and other volunteers all attend, so you never know who you might meet! Don't be shy about asking questions and seeking the help you need.
Experience ADPi traditions ­– Take part in the many Alpha Delta Pi traditions of Grand Convention, including walking in the Adelphean Processional, joining in singing traditional ADPi songs, and learning from our special historical moments.
Share on social media– When sharing your new favorite Grand Convention memories on social media, tag Alpha Delta Pi and use #ADPiConvention2022.
Expand your knowledge at the education sessions – Speak up, ask questions, engage with inspiring speakers, and grow what you know during the education sessions on Saturday.
Start saving your pop tabs– Be sure to bring your pop tabs to Grand Convention for the Alpha Delta Pi Foundation hosted pop tab drive. 
The Disney Day
Following Friday's business meeting, attendees will have the rest of the day free. Alpha Delta Pi has partnered with Disney to offer discounted park tickets, which may be used during this free afternoon. This exclusive discount is valid for Twilight tickets (admission after 1 PM and after 5 PM) and multi-day tickets. Tickets are valid 7 days before, during, and 7 days after meeting dates. Please note the cut-off date for advance purchase savings is June 21. With the new Disney Theme Park Reservation System and park capacity limitations, it's important to lock in your visit as soon as possible. A park reservation and ticket are required for entry. Important Note: We cannot guarantee when the business meeting will conclude, and thus cannot guarantee when you will be able to depart for the park. To purchase specially priced Disney Meeting/Convention Theme Park tickets, visit Pride Online > Grand Convention
How to Spread Violets
With our return to an in-person Grand Convention this summer, our annual fundraiser for the Alpha Delta Pi Foundation's Clasped Hands Fund will be a hybrid of virtual and in-person Violets for My Sisters. Your tax-deductible gift to the Foundation of $5 per Violet provides emergency assistance to alumnae in financial distress. Make your gift online at violetsformysisters.org now through June 12. Honorees will receive an email notification letting them know you have honored them with a gift to the Clasped Hands Fund through Violets for My Sisters. If your recipients are attending Grand Convention, they will receive an in-person Violet (our traditional violet applique to wear on their nametag at Grand Convention) in addition to the email notification. The Violets for My Sisters website will close on June 12, after which Violets will only be available to gift in person June 22-25, during Grand Convention in Orlando.
What About Bylaw Revisions and Grand Council Elections?
Grand Convention is the time in which the voting delegates of the sorority revise our bylaws, elect the next Grand Council, and vote on other business that comes before the Convention body. The voting delegates include chapter presidents or their alternates, chapter advisors, alumnae association presidents, house corporation presidents, Grand Council members, past Grand Council members, International Officers, and standing committee members. Visit Pride Online to view the Bylaws and Resolutions report and the Grand Council nominations for 2022.
Visit The 1851 Shop and Herff Jones
Our preferred vendors, The 1851 Shop and Herff Jones, will be at Grand Convention this summer! We are so excited to offer attendees the opportunity to shop all things ADPi. This is also a great time to consider adding accessories to your order such as a badge, ring, or pendant. Additional convention-related jewelry will be available, including Grand Convention and Jewel Degree dangles; anniversary jewelry for 10, 25, 50, 60, and 75 years of membership; and the chapter president's ring.
---
---