This week, Alpha Delta Pi partnered with the Max Gruver Foundation to recognize National Hazing Prevention Week through our Stop the Hazing campaign. Our focus on anti-hazing initiatives is a year-round endeavor, though.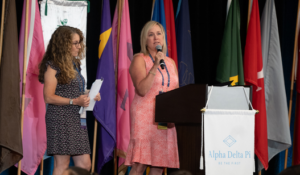 At Grand Convention this summer, the Alpha Delta Pi Foundation sponsored the Celebrating Our Collective Strengths keynote hosted by Alpha Delta Pi sisters Rae Ann Gruver and Evelyn Piazza. Both Rae Ann and Evelyn lost their sons to hazing incidents in 2017. This Convention keynote educated all attendees about the dangers of hazing as well as provided ways members could help end hazing on their campuses.
When asked about Rae Ann and Evelyn's keynote, here is what some of our collegiate and alumnae members shared:
"This was an important message for Convention attendees to hear because we need to Be The First in ending hazing on our campuses. Each attendee was sitting in that room with a different role and perspective which is important for this change. As a Member Development Advisor, this keynote got me thinking about hazing in a way I hadn't before. I think I could have more frank discussions with my team on why our anti-hazing campaign is so important. We need to have these difficult conversations continuously to prevent these incidents from happening as well as how to help if a member finds themselves in the same situation." Jessica Beaty, Epsilon Omicron–Murray State University
"My biggest takeaway is that every individual has a role to play in ensuring that hazing does not occur in their chapter. This message is important because those who attended Convention were chapter officers and advisors who could share the information with their chapter members and the chapters they work with." Chimdi Chijioke, Beta Theta–University of Manitoba
"I think it's important for the Foundation to continue to support these efforts because it spreads awareness of the dangers of hazing and empowers collegiate members, be it bystanders or those directly affected, to stand up against hazing. Together we will put an end to this senseless act of violence." Angelle Dartez, Theta Pi–University of Louisiana at LaFayette
"Rae Ann and Evelyn's message was essential for collegians to hear as we can actually make a difference and Stop the Hazing. It is important for the Foundation to continue providing educational content like this keynote to further educate members on how we can make a difference within our chapters and communities. For me, the biggest takeaway from this keynote was realizing that, as college students involved in the Greek life community, it is imperative for us to implement change and always speak up when we see acts of hazing." Olivia Royal, Iota Beta–Campbell University
The Alpha Delta Pi Foundation remains committed to partnering with the Max Gruver Foundation and providing education on anti-hazing initiatives all year. Gifts to the Alpha Delta Pi Foundation's Annual Fund in support of our Areas of Greatest Need ensure that we can continue to provide educational opportunities like this Convention keynote. Together, we can #StopTheHazing.
---
---